Western Crown Heights is no stranger to new construction. The latest project set to rise in the central Brooklyn neighborhood is coming to 786 Park Place, between Rogers and Nostrand avenues. And YIMBY has a rendering of the development, which will fill a vacant lot on a block lined with four-story, prewar walkups.
Gradient Architecture Studio is designing the building, and Greenwich Street Equities is developing it. The six-story building will have six full-floor condos, spread across 4,913 square feet of residential space. The typical unit will clock in at about 820 square feet.
Since the project is small and boutique, the plans don't include any amenities. However, there will be solar panels on the roof, a shared roof deck, and storage for residents in the cellar.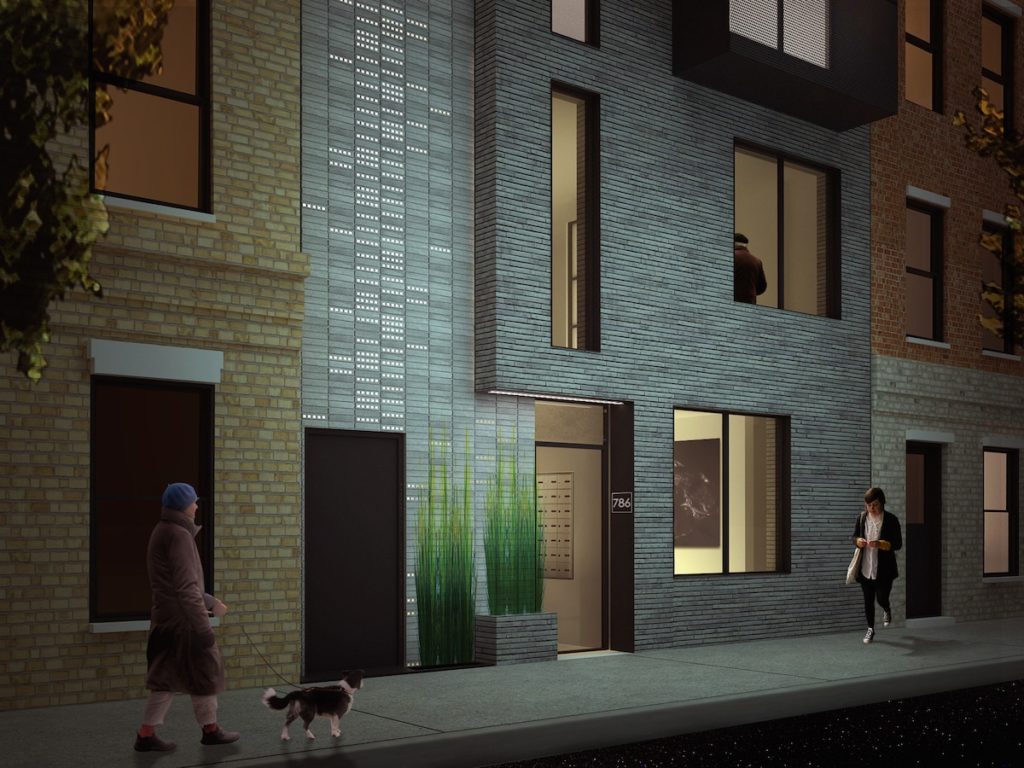 A close-up of the ground floor at 786 Park Place. rendering by Gradient Architecture Studio
The design is quite modern, just like other recently completed buildings in the hood. Gradient principal Ben Krone explained that the shiny panels on the left side are actually brick. To create the effect, "we are turning the brick in the center to expose the holes with glazing behind so you see the light from the stairwell through the brick perforations." The recessed windows wrapped in steel plate add some interest to the exterior and create small balconies for those four apartments.
Construction is supposed to start at the end of October. Meanwhile, work is wrapping up on a small apartment building around the corner on Nostrand Avenue, between Park and Prospect Places, and two sizable rental buildings are rising on opposite corners at Bedford Avenue and Lincoln Place. Developer-architect Alex Barrett is also planning a seven-story residential development at 762 Park Place, across the street on this block.